---
SOURCE: Cleveland Magazine | Anthony Elder
July 27, 2023
Work from major studios largely came to a halt following the WGA and SAG-AFTRA strikes.
At a time when the Cleveland film scene could be celebrating — Ohio legislators recently approved a sizable increase to the motion picture tax credit — industry professionals like Production Coordinator Max Eberle find themselves in limbo.
In May, the Writers Guild of America instituted a writer's strike affecting film and TV production for the first time since 2008 after film studio negotiations failed to reach a satisfactory resolution.
While that strike has continued for weeks, the Screen Actors Guild and American Federation of Television — the actors — began striking, too, after the organization's contract with the American Motion Picture and Television Producers, which represents major studios like Netflix and NBC Universal, expired.
Reasons for the strikes range from a lack of viable pay to concerns over the use of artificial intelligence — fears mount that studios might avoid paying actors or extras for multiple appearances by technologically using their likeness for free after one paid shoot.
For members of the industry in Cleveland, from prop masters to coordinators like Eberle, major film projects now hang in the balance. Eberle, who's worked on sets including the recent White Noise and Judas and the Black Messiah, recalls work slowing down following the writers' strike. When SAG-AFTRA came into the conversation, he hoped that studios and actors might develop a good deal to prevent further delays.
"But, clearly SAG doesn't think they got a good deal," he says. "And there's a breadth of responses to how people feel about what's happened with the strike, but it has doubled down on that slowness and stoppage of work. That is rough for everybody."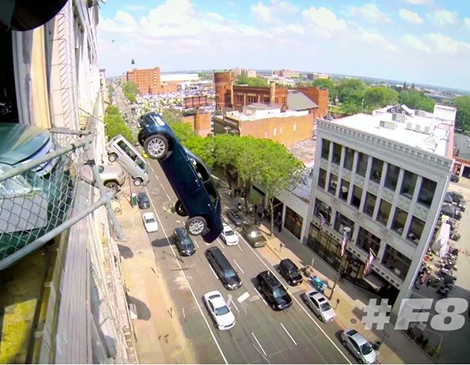 From the set of 'The Fate of the Furious' in Cleveland.
Exemplifying the issue, local Greater Cleveland Film Commission Production Coordinator Mike Wendt saw one production for a Hulu project known currently as Stickshift grind to a halt just weeks after headlines announced the casting call.
"We were able to make that announcement, and then the following day was when the strike fully went into place," he remembers. "There were at least some people who were working at that production office for a couple of weeks before it was shut down."
So, what does this all mean for Cleveland?
For the Greater Cleveland Film Commission, there is still plenty of work to do. The organization's primary function revolves around courting major studios, convincing them to bring their stories to Ohio.
Between the applications, scouting locations and pitching the state's $50 million tax credit incentives (soon to increase to $75 million in 2024), the GCFC can't quite slow down.
"We have to pitch Ohio as a filming destination months, if not years, out before projects come," GCFC President Bill Garvey explains. "And we're never without work to do. Now is not necessarily a quiet time for us."
With the added uncertainty of nationwide strikes, the commission has directed some of its focus toward resource and support. On Wednesday, July 19, the organization held a networking mixer, providing the opportunity for local industry members to connect and commiserate.
The GCFC also provides strike resources on its website, including links to emergency financial assistance and charity grants.
However, Garvey believes the Cleveland industry's situation isn't as dire as it could be. Local filmmakers are used to moving back and forth between smaller local gigs, commercial work and major films. While big studio work may be halted, regional media companies like TRG Multimedia, Transition Studios and Think Media Studios have room to work on non-AMPTP projects — work that doesn't cross the Hollywood writer-actor picket line.
Furthermore, the GCFC president anticipates a surge in work once the strikes lift.
"I can't predict when the strikes are going to be resolved, but I can be ready to go once they are," Garvey says. "And just like coming out of COVID, the demand for content will be great. So it will this time around too."
That doesn't mean Ohio is free from the risk entirely. More films, bigger productions included, means more opportunities for local workers and less chance for brain drain — when a region's creative talent steadily moves away in favor of busier areas like Los Angeles or New York City.
And for the International Alliance of Theatrical Stage Employees, a stagehand union with a chapter in Northeast Ohio, the current situation exemplifies a need for representation across the industry.
Cleveland's own IATSE 209 President Dan Jarrell says they will not cross picket lines, empathizing with current strikers. The union has dealt with its own battles in the past, including a fight for lunch breaks on busy sets and establishing penalties for the major studios if workers can't take them.
"In the last round of negotiations, there was a very large increase in the penalties that these corporations would have to pay to not stop for lunch and just keep shooting through the day — and these are 10-, 12-, 14-hour days," he says. "Once the last negotiations ended, [we started] preparing for these next negotiations, so they've put a lot of time and effort into it. They really take into consideration that these are the worker bees of the industry and they have families. It's just tough for them to survive in these situations, and I think something very serious is trying to keep the ball rolling and not go on strike."
As it stands, the current strikes may continue for weeks, if not months. Garvey and the GCFC encourage local industry members to reach out if they're in need of assistance finding resources and work.
And, Garvey says, Cleveland will be poised and ready when major studio work inevitably resumes.
"Ohio will hit the ground running and get back into it. Once the strikes are resolved, production returns. It's that simple. The demand is always there."