The Cleveland International Film Festival FilmSlam® will take place at Playhouse Square: March 23-24 and 27-31
---
FilmSlam® is the Cleveland International Film Festival's (CIFF) media literacy program and mini-festival of films for students in grades 5-12. FilmSlam® provides students with the ability to evaluate and critique the messages they perceive when viewing films — while encouraging thought-provoking discussion, embracing curiosity and fueling creativity, and experiencing social-emotional growth.
FILM SCREENINGS:
A list of titles and synopses of films screening at FilmSlam® at Playhouse Square, including Animated Cinema, Black Cinema, Cultural and Cultural LIGHT Cinema, Chinese Language Cinema, Feature films, French Language Cinema, German Language Cinema, and Spanish Language Cinema will be released in February.
FilmSlam® will take place at Playhouse Square: March 23 – 24 and 27 – 31, 2023.
All films/programs will begin simultaneously at 9:30 a.m. (your morning will come to a close before 11:15 a.m.). Please make your best efforts to arrive at least 20 minutes prior to your screening start time to give students adequate time to make their way to the theatre. We are unable to delay screening start times to accommodate late arrivals.
Each film includes a study guide and pre/post questions
Each screening includes a 15-20 minute filmmaker Q&A
Students vote for Best Feature Film and Best Short Film
Feature films will be screened on Monday – Thursday, March 27 – 30. The feature films will be announced by end of February. The following short film programs will be screening on the following dates:
Animated Cinema (screening on 3/23)
Black Cinema (screening on 3/24 + 3/31)
Cultural Cinema (screening daily)
Cultural LIGHT Cinema – middle school + junior high (screening on 3/27)
Chinese Language Cinema (screening on 3/38)
French Language Cinema (screening on 3/24, 3/30, 3/31)
German Language Cinema (screening on 3/29)
Spanish Language Cinema (screening daily)
TICKET RESERVATIONS:
FilmSlam® tickets are $5 a student; teachers and chaperones are free! CMSD students, teachers, and chaperones receive free tickets. All educators must reserve tickets for all screenings they plan to attend through our reservation link here. The deadline to make ticket reservations is March 17, 2023.
TICKET RESERVATION MODIFICATIONS:
The last day to modify student numbers for CIFF47 FilmSlam® screenings is March 17, 2023. Please note you will be invoiced for your number of reservations, even in the event some of your students do not attend.
PAYMENT PROCESS:
They ask that you please send a check, PO, or credit card number in advance of your arrival to the following address or email:
Cleveland International Film Festival
Attn: FilmSlam
2510 Market Ave.
Cleveland, OH 44113
[email protected]
If it is easier, you can simply request an invoice be emailed to you. Those requests can be made directly to [email protected]. FilmSlam® payments will not be accepted at the door.
---
FILM FESTIVAL RATING:
Film Festival films – including FilmSlam® films – are not rated. Some films selected to screen in FilmSlam® may contain strong language, unusual humor, and/or challenging topics and themes.
Our Middle School 'LIGHT' program is appropriate for middle and junior high school students.
---
BUS TRANSPORTATION:
Buses will drop students off at Allen Theatre (1407 Euclid Ave, Cleveland) and will be given directions on where to park for the morning. Students and educators will check-in and be escorted to their theater. More information on bus arrival, drop-off, and pick-up maps and instructions will be emailed to you in the weeks prior to your field trip.
If you are in need of funding support for bus transportation to FilmSlam® at Playhouse Square, we recommend reaching out to Ohio Arts Council's Big Yellow School Bus program, which supports school visits to arts and cultural activities. Please refer to this document for helpful information as you put your application together!
CMSD students receive free bus transportation (first-come, first-serve). Information for how to schedule your bus will be emailed to you once you submit your ticket reservation.
---
CONCESSIONS & PLAYHOUSE SQUARE DISTRICT
Concession stands will be open for students to purchase snacks and refreshments prior to film screenings. A list of available concessions and prices will be emailed to teachers in early March. For those interested in arranging lunch in the District following your FilmSlam® screening, check out the Food and Amenities Guide.
---
TEACHER RESOURCES
Join FilmSlam® for their Teacher Workshop on Saturday, March 4!
For additional FilmSlam® resources, including parking information, film descriptions, study guides, and more, check out the FilmSlam® at Playhouse Square Google folder in the coming weeks (link not currently available).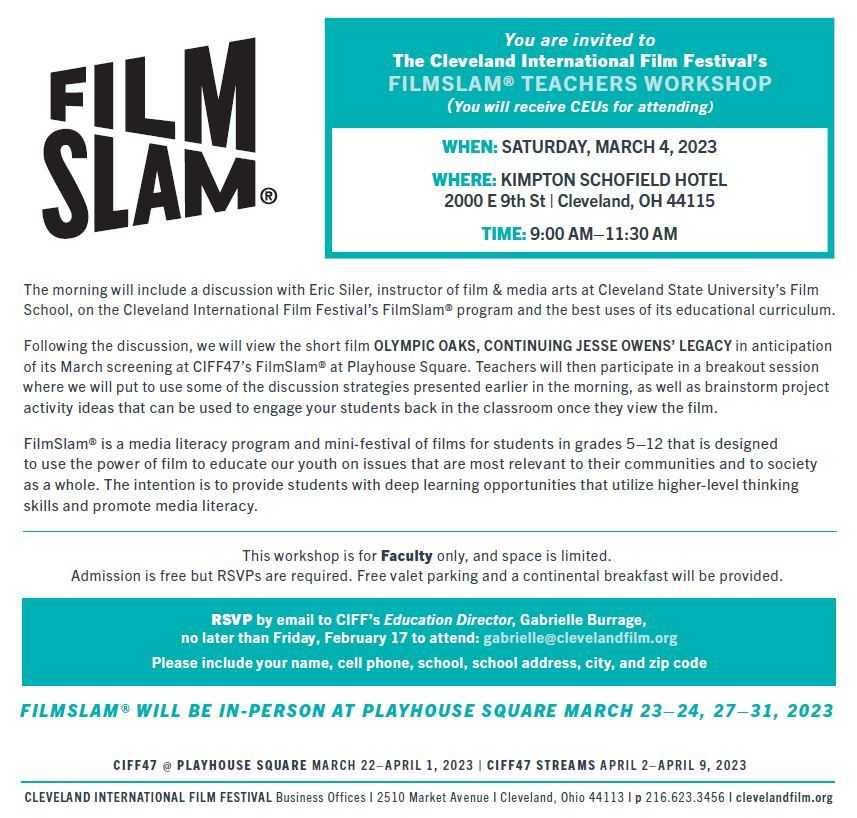 ---
FILM SLAM STREAMS:
FilmSlam® Streams is CIFF's virtual media literacy program that allows educators to stream films directly in the classroom with their students. Each film includes a study guide connected to curriculum links, and Q&A sessions will be conducted via Zoom with filmmakers after selections have been watched.
A new series of FilmSlam® Streams will launch on April 3 with new short films in:
Arabic Language Cinema
Black Cinema
BIPOC Cinema
Chinese Language Cinema
Cultural Cinema
Cultural Cinema LIGHT
Diversity, Equity, Inclusion & Accessibility Cinema
Environmental + Climate Cinema
French Language Cinema
German Language Cinema
Human Rights Cinema
Latinx Cinema
Social Justice Cinema
Spanish Language Cinema
Ukrainian Cinema
Women's Empowerment Cinema
Educators will be able to stream these films directly in the classroom to their students. If you have not already signed up for FilmSlam® Streams and would like access to this virtual program, please complete the following registration form (educators that have already completed the form this school year do not need to fill it out again!).